← Scottish Oatmeal
Dairy Free →
Baby Wearing/Boba Wrap Review Update
That's it. I'm a convert. I love baby wearing. Call me a hippie, I don't care. It has seriously been the most rewarding experience to wear Monkey, and I just know that he loves it too. I've worn him for at least a few minutes almost every day since we got home from the hospital. I wear him out on the town and in the house. I've worn him vacuuming (puts him to sleep), cleaning up, doing dishes, folding laundry, and yes…even going to the bathroom! (Hey man, when you gotta go you gotta go.) I truly feel that keeping him close to me has helped us to bond in such a unique way and I love giving him a sense of security.
Back when I was about 22 weeks pregnant, I had the opportunity to review the Boba Wrap. At that time, it was actually called the Sleepy Wrap, but the company has since changed names – product is still totally the same, just has a new name. I wrote my review using a stuffed bear. While it was obvious that the quality and stretch of the wrap was great, using a bear to review just isn't the same as using a real live squirming baby.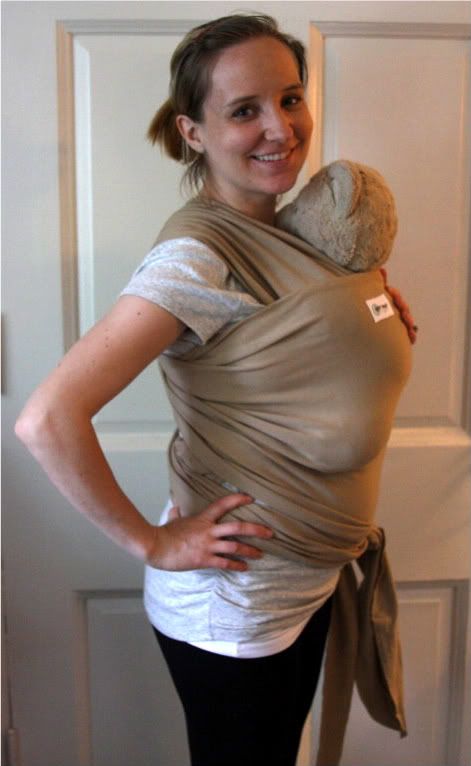 The first time I used the Boba Wrap with Monkey was the day after we brought him home from the hospital. So, he was 5 days old. Luckily, the pediatrician's office is just a few blocks from our house, so I thought it would be the perfect opportunity for me to try out the wrap for the first time.
I will admit that there was definitely a learning curve. In the picture above where we are walking to the pediatrician, I should have spread the wrap out over my shoulders. I didn't quite get the hang of the wrap and how it should fit until maybe the fourth time that I actually used it. I kept thinking I was putting it on too tight, but then I'd walk around for a while and Monkey would start to get lower and lower until my back would start hurting. I quickly realized that you really can't put the wrap on too tight, in fact the ideal fit seems to happen when I tie the wrap to where it's almost a little snug. The stretch of the fabric that Boba uses is amazing. Now that i have the fit under control, I can tie the wrap once and then take Monkey in and out as many times as I like and the wrap doesn't loosen up. It's great! In the picture below, we were at the farmer's market for our first official outing after coming home — but I had the wrap too loose and Monkey is sitting way too low.
I wore Monkey in the 'newborn hold' for about the first month, then I started to use the 'love your baby hold'. For reference – Monkey weighed 8′ 6 ounces at birth, and hit the ten pound mark by the end of his first month. He loves loves loves being in the wrap. One of my favorite things to do is wear him in the morning and bounce on our exercise ball – it usually puts him to sleep for his morning nap. It's also great for walking to the pediatrician, grocery store, coffee shop, you name it!
One tip: If you're going out somewhere that you have to drive to but want to use the wrap when you get there, put the wrap on before you leave the house. Then, when you get to your destination, all you have to do is pop your little one out of the car seat and stick him in the wrap! I've already done this countless times.
I can't tell you how many times I've gotten the comment "Oh my gosh, he looks SO comfy and cozy in there!" And, he really is.
The other thing I love about baby wearing is that going out with Monkey in the Boba Wrap really helped me to get over the fear of strangers infecting him with who-knows-what nastiness. Being a first time mom, I was so nervous that we'd go grocery shopping and the next day Monkey would be sick. Keeping him close and snug in his wrap made it pretty much impossible for strangers to get all up in his face at the store which gave momma a big sense of relief.
The one thing I haven't mastered with my Boba is nursing while wearing him. I'm not sure if he's not big enough yet or if I'm doing something wrong, but I'm having difficulties with that. If you have a Boba wrap and have any tips on how to nurse without taking baby out of the carrier, I'd love to hear them! I do find it pretty easy to pull him out, just move the wrap aside and nurse while still wearing the wrap, though.
So, in a nutshell, I love baby wearing and I love my Boba Wrap. I also have an Ergo baby carrier, but I haven't used it enough to give a true post-baby review just yet. We used it a bit with the infant insert when he was little and I liked it then; however, it seems as if Monkey is in this in-between stage where he's too big for the insert but too small to go without it. Once he hits four months, I'm thinking we'll start using it more often, and then I'll write up an updated review at that point. I also just ordered a ring sling carrier because I've heard that they're great for nursing. I can't wait to try it out!
————————————————————————————————-
Like what you just read? Subscribe to our blog so that you never miss a post! Also follow us on Twitter, Facebook, Google +, and Pinterest to keep up with the latest happenings in The Crunchy House. Thanks for your support!
January 6, 2012
This entry was posted in
baby
,
Babywearing
,
NaBloPoMo
,
Product Reviews
. Bookmark the
permalink
.