← The truth about Christmas trees
Happy Holidays! →
The Hospital Stay
I'm writing this post mainly because I want to vent. We were less than thrilled about our hospital stay after delivering Monkey and I want to tell our story so that others are more proactive than we were. I spent so much time in preparation for the birth and worrying about keeping myself healthy, that I didn't actually think about what to expect IF things didn't go according to plan at the hospital.  My own fault, I know. Of course, this ended up letting the introvert in me come out, allowing the hospital staff to walk all over me. Next time, I'm running the show.
I was prepared for the birth of Monkey. More than prepared. I can't tell you how many hours upon hours I researched topics like staying healthy in pregnancy (what to eat, what not to eat), how to write your birth plan, how to breast-feed, what baby products were best, and what to expect when you get home. I also researched cloth diapers like crazy as well…but that's another post entirely (actually probably more like three or four or five…)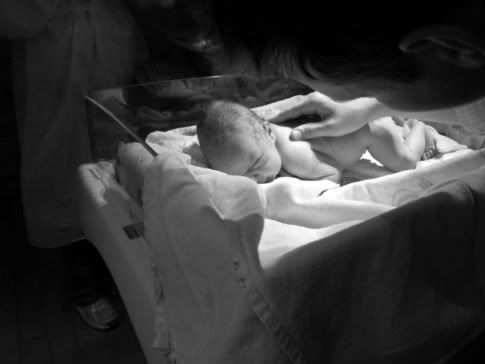 Everyone told me to have a birth plan, but to use it as a guideline since most of the time, things don't go according to plan. So, that's what I did…in fact, I blogged about it here. I wanted an u-nmedicated water birth, if possible, but I was open to other options if need be. So, when the time came to where my midwife suggested that I get an epidural, I was disappointed..but not crushed. (Read my full birth story here) I knew it was what was best for me at that point in time, and I went with it. After that is when things took a turn. It's almost as if the second I started to introduce traditional medicine (pain meds, doctors, etc), things went South.
Despite the fact that my epidural medicine somehow disconnected so I only had relief for a few hours, and the fact that I had an OB I had never met deliver Monkey instead of the midwife that spent 19 long hours with me..I was still feeling pretty content after delivery. I think it was mostly the adrenaline from delivering the most beautiful little boy in the world.
First of all, I didn't get to breastfeed Monkey right after he was born, even though I kept asking if I could. The nurses were pretty much ignoring my request and not really telling me what was going on. They did say that Monkey needed some monitoring because of his fever and fast breathing, which I understood…but even when we got him back and were able to move to recovery, I wasn't able to nurse for a bit. Finally, when the nurse came to help me, she said that I looked like I had flat nipples and that I needed a nipple shield. A what? I had never heard of a nipple shield before (maybe that was partly my fault…), but I swear my nipples aren't that flat. I was in a fog at this time, but I really don't remember them even letting me try to feed before giving me the shield. Of course, I was on tons of meds, in a fog from being in labor for 30 hours and in a ton of pain…so I just did what they said was best. After all, they're the experts right? Wrong.
The nurse popped the shield on and said here, squirt this in there. Will, the 'this' was formula. Again,  I was so out of it that I complied. I was so out of it that it didn't even occur to me that it was formula until the next day. At that point, I stopped using it altogether. But, I kept using the shield. Looking back, I should have just tried to get him to latch on my own, but I trusted what the nurse said – that I needed the shield. I'm slightly disappointed that I can't say "my baby has never had formula" because of that first day…but it did help him to latch onto the shield, and he didn't end up getting much formula.
I also kept getting conflicting information from the nurses. I remember one nurse telling me that it was extremely important that Monkey get some food within the first 24 hours (which is ultimately why they gave me the shield to ensure he got something). I felt extremely guilty and kept wondering if he was getting anything, The next nurse that came in told me it didn't matter…that the first 24 hours weren't crucial. WHAT? How do these people not know what they're talking about. I also wasn't able to see a lactation consultant until my third day there; despite my repeated requests to see one. If I had to do it again, I would have been way more forceful about this and insisted on seeing one the first day.
A few hours after delivery, a nurse came in to give me my meds. Apparently I was on Oxycodone. I took it before realizing what it was…in fact I don't think I realized it until they had given me a couple of doses. (Dumb, I know…but again…you trust that what the hospital staff is giving you, is safe and is what you need!) Once I found out what it was, I asked multiple nurses if it would go into the breast milk and they said "no, you should be okay". Well, the evening I was discharged, Brian went to get my meds filled and the pharmacist asked him if I was breastfeeding.  When he said yes, the pharmacist said "you know, this gets into the breastmilk, right? It seems like the nurses upstairs never tell the patients that, but it does in case your wife is worried about that". When he told me that I was livid…and stopped taking it immediately.
Sometime during our first day in the hospital, a nurse came in to take Monkey to administer his antibiotics. Again…I said huh? Antibiotics? Well, apparently shortly after delivery (when I was in that fog), the pediatrician on staff came in and said "we're giving your son antibiotics due to his fever" – I don't remember it because I was so out of it. Again, I trusted that they were needed and let them take him…feeling a bit uneasy about it. For the rest of the stay (until the last 2 days), Monkey got antibiotics every 6 hours.
Monkey with his arm all bandaged because of his IV line:
We ended up having to stay in the hospital for 5 days post delivery because of his antibiotics and the frustrating thing was that no one seemed to be able to tell us exactly why he was on them.  We would ask a nurse who would tell us that they would go find out, or send the pediatrician in – but would never get any results. In fact, we didn't see a pediatrician in the hospital until day four. Day four was when our doula suggested that we call our personal pediatrician (duh…why hadn't I thought of that?) and ask for her advice. It was a Saturday and not only did she call me back, but she called the hospital to talk to the pediatrician on staff in an effort to get some answers for us. She made us feel so much better telling us that she did think the antibiotics were necessary since Monkey had had a fever of 101 after delivery, but thought that since it was the fourth day – they could be stopped. She also continued to follow up with the hospital and us to see how things were going, and then saw Monkey in her office two days after we came home.
Lastly comes the story of my placenta. We wanted to take the placenta in order to have it encapsulated. (Post on this coming next week) Everyone knew that we were taking it and that it wasn't to leave the room until it was in our cooler. At that point it would go into the refrigerator on the same floor until we could take it home. Well, somehow the OB that came into the room to help at the end ordered that it be sent to Pathology. He had the order canceled before they started the testing; however, it still ended up in Pathology. We kept trying to track it down while we were in the hospital, and finally got confirmation that it was in the pathology fridge. Gross. Well, it ended up being okay in the end, and we did get to take it home – but I'll talk about that later.
This post is already getting long, so I'll try to make the rest of it short. The rest of the hospital stay was pretty much a big mess of mixed advice and poor communication from the nurses.I would ask for more supplies (i.e. those big pads you need and disposable underware that is pretty much the best invention ever), and no one would bring it to me, or it would be hours later, or  Brian (the most amazing husband in the world) would have to go get it for me.
In a nutshell, we were classic first time parents just trying to do what was best for our son. Thing is, we put way more faith in the hospital staff than we should have. I'm actually fairly confident that the hospital staff loved us, too, because we didn't complain – all we did was comply with everything they suggested and we were so patient when they told us we needed to wait for answers, etc. They learned early on that they could walk all over us and they took advantage of it. Boy did I learn my lesson. I have no regrets because we didn't know any better – but I definitely learned a lot. Next time, we'll have more confidence in ourselves to be much more straight forward with the hospital staff. We'll know what questions to ask and we won't be so quick to lose sight of our thoughts and concerns.
Heading home and SO happy: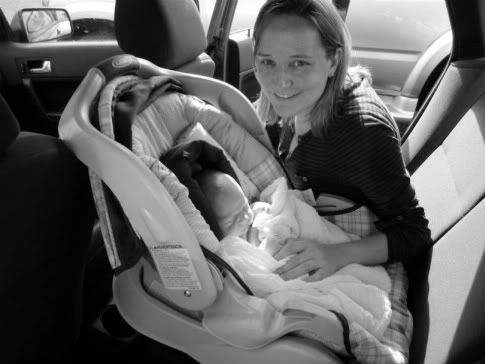 Looking back, it really wasn't that bad and I know the nursing staff was just trying to help out, but I wrote this post in an effort to reach out to  expecting moms that may be reading this. Maybe it's your first child, and maybe you're scared out of your mind like I was. Please, just try to remember my story and the importance of speaking up! You'll only see these people for a few days and your concerns for you and your child are what's important. Ask questions…a million times if you need to in order to get them answered, and don't be afraid to ask for help! Call your pediatrician, friends, family, anyone to help out if you need to – especially if you're not one to normally speak up. Hopefully you'll have a better experience than we did. We would have felt so  much better about the whole ordeal had we insisted on better communication. As a direct result of our hospital stay, we're actually thinking about a home birth for next time!
————————————————————————————————-
Like what you just read? Subscribe to our blog so that you never miss a post! Also follow us on Twitter, Facebook, Google +, and Pinterest to keep up with the latest happenings in The Crunchy House. Thanks for your support!
December 16, 2011
This entry was posted in
baby
,
Birth
,
Featured
,
Pregnancy
. Bookmark the
permalink
.