← Weekly Thoughts
Weekly Updates →
Dr. Bronner's Magic Soap
I'm pretty sure that I've mentioned my love for Dr. Bronner's Magic Soap at least once on here before, but my love is so great that it deserves it's own post! Seriously. If you haven't heard of Dr. Bronner's Magic Soap, you're missing out and you should probably run to the store after reading this post and pick some up. Oh yes…I mentioned it in my post I did about my love for Vinegar a while back.
*UPDATE – Click here to see my new video post on Dr. Bronner's!
I discovered Dr. Bronner's about two years ago now and it's been a staple in our household ever since. The product they're known for is their castile soap. Their soap is made from extra virgin coconut, olive, jojoba, and hemp oils along with pure essential oils. Dr. Bronner's products are never tested on animals, completely vegan, biodegradable, and made with certified fair trade and organic ingredients. There's no synthetic foaming agents (cough sodium lauryl sulfate cough), thickeners or preservatives. No chemicals and nothing nasty here.
So…what all is Dr. Bronner's Magic soap good for? Well, there's a reason 'Magic' is in the title of the product; it has over 18 uses – and if you take the time to read the bottle you'll discover them all.
-Side note – each Dr. Bronner's bottle of Castile soap has about 3000 words on the label (seriously…how do you cram 3000 words on a label?)…and it's full of the most bazaar ramblings. I dare you to stick a bottle of soap next to your toilet and keep it in there to read while you go. Definitely makes for some interesting readings. (Although, if it's taking you that long to go to the bathroom, you probably need to look at your diet and water intake.) Yeah, I'm talking about poop.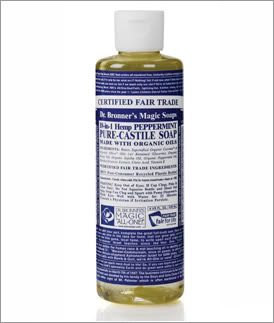 One of the great things about this soap is that a little goes a long way. Our favorite every day use is using it as our go-to hand washing soap. We bought two of these foaming soap dispensers and mix about 1/4 cup of soap to 2 cups of distilled water (stays fresh longer) and have one in our kitchen and one in our bathroom. I love the peppermint scent for the kitchen and the almond scent for the bathroom, but they have a bunch of other scents too. They also make an unscented variety that is safe to use on baby! We like to get the 8 ounce containers to that we can switch up scents every now and then.
Other uses include: shampoo, toothpaste (I'll admit, I'm a little nervous to try this one), body wash, shaving, laundry, dishwashing, washing pretty much anything you can think of, and tons more. I like to use it when we mop the floors. We have one of those mops with a washable micro fiber cloth, so I'll usually make up a solution of vinegar, warm water, and a squirt of Peppermint Dr. Bronner's and then scrub away! Oh! I also love using it to clean out my make-up brushes. I just take the foaming soap I have in the bathroom and use it to scrub out my make-up brush two or three times…works like a charm.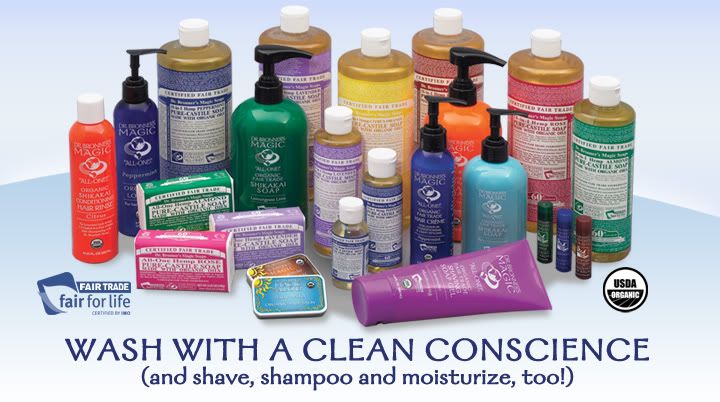 Castile soap isn't the only thing made by Dr. Bronner's. They also make tons of other lotions and potions, but I'll leave you to explore those on their website. (I bought the shaving cream…well more like a shaving gel near the beginning of my pregnancy and still have about half of the tube left. I love it, by the way) I haven't had the chance to try much else, but I'm sure I will at some point.
Ever since using this soap, I always wondered if Dr. Bronner was a real person, or if the company just somehow came up with the name. Well, it turns out – Dr. Bronner WAS real (passed away in 1997) and was an incredibly interesting fellow. In fact, his whole family and life story is…fascinating I guess? Brian stumbled upon a documentary about Dr. Bronner when browsing netflix the other day, and I was completely intrigued by the whole thing. Dr. Bronner's son takes you through the history of Dr. Bronner – how the soap came to be and just what an eccentric (to say the last) guy his dad was. Basically, Dr. Bronner really believed that thinking about society as a whole was more important than family. During his life, he was committed to a mental hospital, escaped, and also abandoned his children leaving him to bounce around foster homes. But, he was a genius.
If you love Dr. Bronner's soap like I do, watch the documentary on Netflix or Amazon…or pick up a copy from their website. So interesting to see the face behind this soap. If you've never tried the soap, you should! Check out the trailer below:
So where can you buy this soap? I've seen it at health food stores, grocery stores, and even Target! I would start with your local health food store first. Try it, you'll like it :)
*All images in this post are taken from drbronner.com
————————————————————————————————-
Like what you just read? Subscribe to our blog so that you never miss a post! Also follow us on Twitter, Facebook, Google +, and Pinterest to keep up with the latest happenings in The Crunchy House. Thanks for your support!
December 9, 2011
This entry was posted in
Cleaning
,
Documentaries
,
Product Reviews
. Bookmark the
permalink
.