← Save our bees
GudonyaToo Review/Giveaway and Discount →
The Crunchy Spring Event: From Farm to Market Review and Giveaway
When I first started planning The Crunchy Spring Event, I stumbled upon this company called From Farm to Market. It immediately caught my attention just by the name, but I couldn't wait to see what they had to offer. After a quick look around on their site, I knew that they would be a great addition to my event, and I couldn't wait to contact them.
I talked to owner Matt Grivner on the phone for about half an hour and could tell that he was really passionate about his company. He and his wife started From Farm to Market about a year and a half ago. They put a lot of work into picking and choosing products that they felt would be a strong match to their goal of finding unique, aesthetically pleasing eco-friendly gardening products. It took them over a year to get their website to what it is today, and they are continuously adding new products.
From Farm to Market says:
For most of us, a "shopping experience" is frequently defined by a visit to one of a handful of large retailers who offer a homogeneous selection of mass produced goods. By design, the sheer volume of these facilities with their inventory of desirable, low cost items make it quite effortless for us to shop and be on our way without a second thought.

The unfortunate and more ominous reality is many of these items come at a price to our environment or the very people who manufacture them for our use and enjoyment. In a manner frighteningly reminiscent of Dr. Seuss's, The Lorax, we are robbing the good earth from tomorrow's children simply for our convenience.
The evolution of From Farm to Market stems from our passion for the outdoors and the limited availability of truly unique, aesthetically pleasing and eco-friendly gardening products. Research bears out that what we as individuals choose to purchase as well as who we elect to make those purchases from can have a substantial impact on the health of our environment.
As a small, independent business we are equally committed to you, our customer and to being a good steward of our Earth. As such, we will continue to seek out and offer only eclectic, sustainable gardening products that give you an opportunity to make your garden and home a more beautiful place while treading a bit more softly on Mother Earth.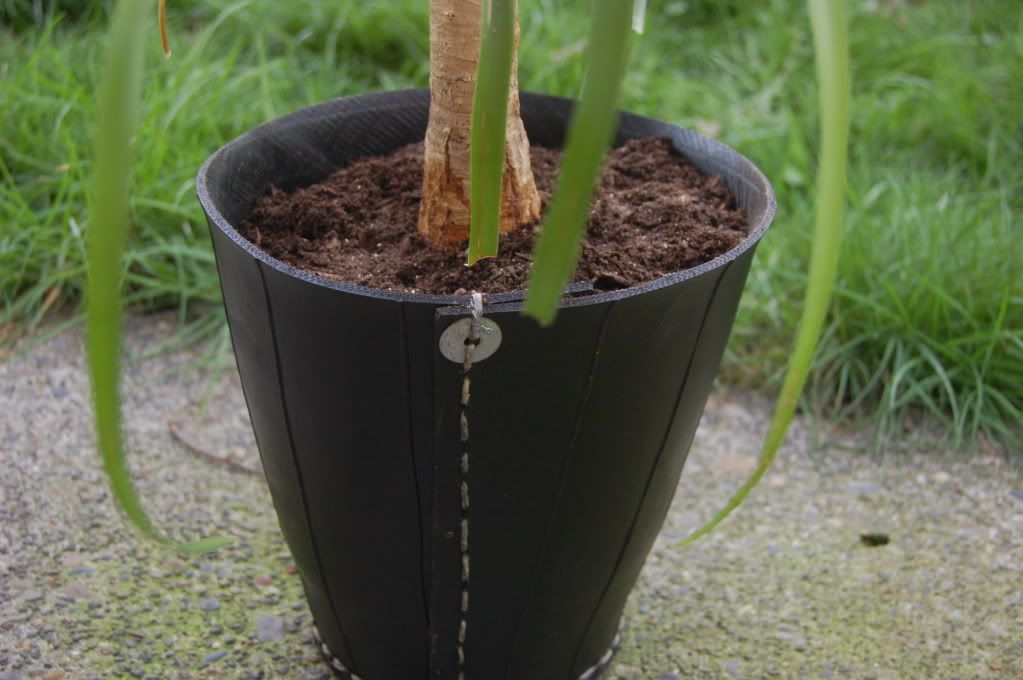 Of course I love that the products they sell are eco-friendly, but what impresses me even more is that they put such passion into choosing those products. When I spoke to Matt, I could really tell that he has poured his heart into this company, and I felt lucky to have stumbled upon From Farm To Market. Matt even told me that most of the products up on their site have been used by him, his wife, and their family members, so that they can feel confident about what they are selling.
From Farm to Market sent me a Rubber Flower Pot to review as well as a set of four Oak Plant Labels. The flower pot is made from recycled tires (yay for recycling!) and is hand sewn with a thick nylon thread.
We were really impressed by the quality of the Rubber Flower Pot when we received it in the mail and couldn't wait to put it to use. I had a Ponytail Palm plant that I had gotten about 5 years ago in desperate need of a new home, and I just knew my new Rubber Flower Pot was the perfect place! We re-planted the Ponytail Palm into the Rubber Pot and it has been doing great ever since. I want to mention that at first, we didn't put a liner in and quickly discovered that it leaked from the bottom upon watering. This was an easy fix, though, and doesn't change the quality of the pot whatsoever.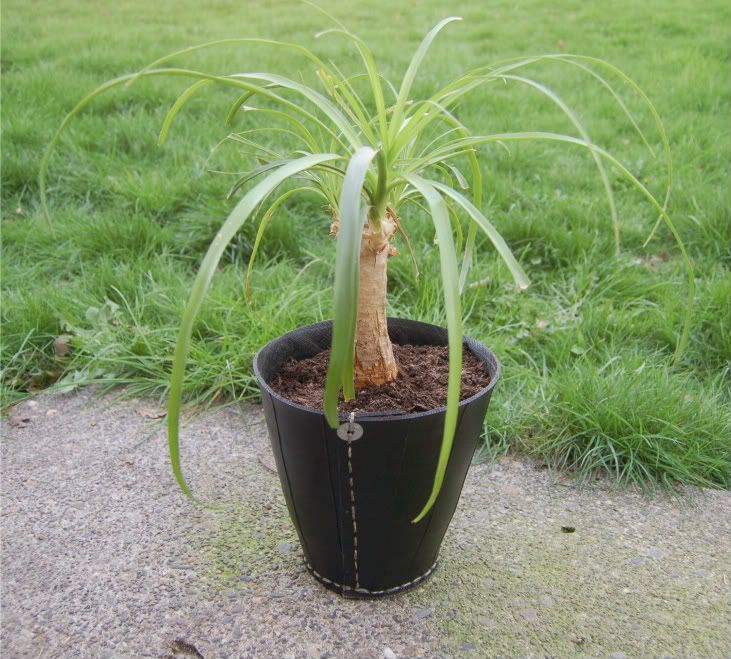 We used the Oak Labels to label some of our veggies that we recently planted. TCH and I are new to this whole gardening thing, so I knew that in a few weeks, we'd probably forget what we planted and where, and these labels were the perfect solution. The great thing about them is that they are reusable. Just lightly sand down the surface, or brush with a rubber eraser at the end of the season, and you can use them next year!
In summary, From Farm to Market is a wonderful, family owned business that strives to carry environmentally friendly products for the home and garden. If you didn't already know, family owned business are my favorite! From Farm to Market also makes a point to reuse boxes and packaging material for your order when appropriate. I don't think it could get much better than that :) One other thing that is worth mentioning is that many of the products From Farm to Market has to offered are hand-crafted by various artists. You can read about some of the artists HERE.
Are you interested in these wonderful products and think they would go great in your home this Spring? Read on to see how you can try something from From Farm to Market!
Pick up your very own Rubber Flower Pot or any of the other great eco-friendly products offered at From Farm to Market by visiting their site!
From Farm to Market has kindly offered one of my readers a $25 Gift Card to use on whatever you want from their site! Wow!
To enter this giveaway:
Mandatory Entry: I don't care if you do this first, third, or last but it MUST BE DONE for all Extra Entries to count! Head on over to From Farm to Market,look around, and tell me about a product you would like to try that was not mentioned in this review.
Don't forget to leave an e-mail address on at least one of your entries so I know where to contact you if you win.
Extra Entries: Want more chances to win? Complete these things! Remember to leave a different commentfor each additional entry since each comment will count for one entry in the giveaway. If I make a note that a certain entry isworth more than one entry, please leave two comments (for instance: "I followyou #1″ and "I follow you #2″).
- Are you planning to do some gardening this Spring? If so, tell me a little about your set-up (1 Entry)
- Follow my blog publicly through Google Friend Connect or subscribe using a reader (2 Entries)
- Follow me on twitter and tweet about this giveaway. You can use this tweet: Win a $25 Gift Card to From Farm to Market with @TheCrunchyWife and get ready for Spring! #Giveaway #Green (Ends 3/25) http://bit.ly/d9FnRq One entry per tweet. Leave the link to your tweet in your comment. (1 Entry – can do one tweet per hour)
- Grab one of my buttons for your blog – see left sidebar (3 Entries)
- Enter another ACTIVE Giveaway – see left sidebar and stay tuned for new giveaways (1 Entry per giveaway)
- Leave a NEW comment on a non-giveaway post (Worth 1 Entry per comment, NEW comments only!)

This giveaway will end at 10PM PST on Thursday, March 25rd, 2010. A winner will be drawn using Random.org and I will send them an e-mail which they will have 48hours to respond to or a new winner will be selected. Open to USresidents ages 18+. Good Luck!
Make sure you leave your e-mail address in at least one of your comments.

All opinions expressed are my own. From Farm to Market provided me with a Rubber Flower Pot and Oak Labels (Thank You From Farm to Market!) for thepurpose of this review, but the free product did not in any wayinfluence my review and opinion. I was not paid to write this review.To read more about our giveaway policy, click here.

March 11, 2010
This entry was posted in
Giveaways
,
Product Reviews
,
The Crunchy Husband
. Bookmark the
permalink
.