← The Crunchy Spring Event: Eco-Friendly and Frugal 'Unpaper Towels' Review and Giveaway!
Wordless Wednesday! →
Vin Vin Vin VINEGAR!
I love vinegar. Seriously. I love it so much that I'm dedicating an entire post to it! The other day I was at the grocery store and as I was going through the check-outs with my big jug of vinegar, the cashier asked "WOW what do you do with all this vinegar??" And at that moment, I just knew I needed to blog about vinegar.
Since 'going green' I have discovered that you can use distilled white vinegar for almost anything. It's even been used for THOUSANDS of years!!! Vinegar is non-toxic, it has no preservatives, no additives, and it's all natural. Vinegar is great to use in household cleaning because it will kill most mold, bacteria, and germs. Here is what we use vinegar for in The Crunchy House….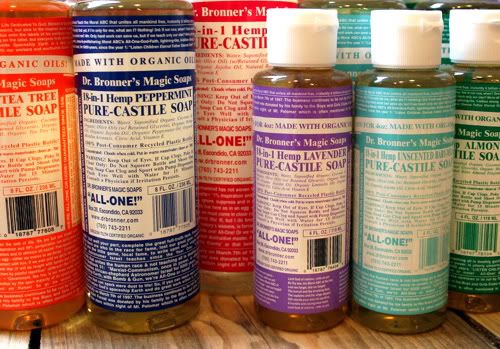 Everyday surface cleaner
I use this cleaner for EVERYTHING. We feed our dogs and cat an all raw diet, meaning they eat raw meat and bones (I'm thinking that's another post for another day). So you can imagine, we're wiping up the floors under their dishes pretty regularly in order to get those yucky meat juices out of there! I usually spray this cleaner and wipe with one of my unpaper towels. Sometimes I follow with a few squirts of hydrogen peroxide just to make sure it's extra clean, but that's just for the meat juices. I also use this cleaner on the countertops, stovetop, in the bathrooms, and on pretty much anything that needs a quick cleaning! This surface cleaner can just be sprayed and wiped up, no need to rinse! Here's what you need to do:
+ Get a spray bottle, fill it with 50% water and 50% distilled white vinegar. Squeeze a hefty squirt of Dr. Bronner's castile soap into the bottle and you're done! The Dr. Bronner's isn't necessary, but it helps in scrubbing a little bit.


In the Microwave
Ever look in the microwave and see little pieces of food stuck all over the sides? Want a quick, easy way to clean it up? Here's what you need to do…
+  Get a bowl. Fill it with 50% water, 50% distilled white vinegar. Turn the microwave on for 5 minutes. Don't open it right away, just let the bowl sit in there and steam for another 5 minutes. Open the microwave and wipe off all the gunk! Bonus – this will also deodorize the microwave.

In the Laundry
Vinegar works great as a fabric softener! Here's what I do…
+ Fill the fabric softener dispenser up about halfway with distilled white vinegar, and you're good to go! Just by doing this, I have noticed that my clothes are much softer. If you don't have a dispenser, add some vinegar to the rinse cycle instead.
In the Dishwasher
In our new rental house, we have semi-hard water. When we first moved in, we noticed that it was starting to leave a bit of a white film on our dishes. Well, vinegar is an easy fix! Here's what to do…
+ Right before starting a new load of dishes, just splash some vinegar into the bottom of the dishwasher. I usually just pop the top on the jug and pour about a tablespoon in. This has really helped to leave our dishes dryer as well as cut down on the white film we used to have. I've also heard that you can stick it in the rinse aid dispenser instead of using actual rinse aid, but I haven't tried that yet.
Window and glass cleaner
Fill a spray bottle with 50/50 vinegar and water. Spray this on your windows, mirrors, or glass and wipe away. I've found this works just as good if not better than windex….and you're not using any harsh chemicals! For a streak free shine, try using newspaper to wipe away the spray instead of paper towels. It really works, I swear..try it! (that's probably my favorite trick so far actually haha)
Cleaning up after pets
Vinegar is safe around pets and when you live with a zoo like we do, this really comes in handy. We have a cat and a rabbit who both use litter boxes.  Ammonia in the urine can sometimes leave a chalky white residue on the litter box..and vinegar is the perfect solution. I just pour a little bit of it in the litter box when I'm cleaning, let it sit for a few minutes and then rinse with water. I do the same for my cats litter box when I change out the litter. This also helps to neutralize odors.
Ring Cleaning
I am not very careful with my wedding rings…meaning I leave them on when I wash my hands, and half of the time when I put lotion on, I forget to take them off. This ends up making them all covered in gunk. But, I don't have to take them to the jeweler to get sparkling clean..I just use vinegar and baking soda.  Here's what you need to do…
- Get an old toothbrush. Mix up a paste of 50/50 vinegar and water with a little baking soda. Dip the tooth brush into the paste and use it to scrub your ring, then rinse with water. My rings have diamonds and are made of white gold and they come out sparkling clean every time. Make sure to check that your ring is safe in vinegar before trying this…I'm not sure if all metals are okay to be scrubbed with vinegar..and I wouldn't use 100% vinegar, the acid might be too strong.
Carpet stain remover
This is one of my favorites. We had this really dark stain on our carpet and couldn't figure out what it was. Someone recommended this mix to me and I am OH so grateful.
- Mix up a paste of 50/50 vinegar and water with baking soda. Make it so it's a pretty thick paste. Take an old toothbrush and scrub scrub scrub the stain. After scrubbing let it soak for about an hour and then vacuum up. This seriously worked SO well for us. Be careful, though and do a spot test first somewhere that's not noticeable…it worked on our carpet, but that would be terrible if it changed the color of yours!
So there ya have it. These are just a few of the ways we have tried vinegar in our household…it's gotten to the point that I now associate the smell of vinegar with clean…I love it!
Yeah, vinegar is pretty much magic.
***EDIT***
I wanted to add a few things after reading some of your comments.
WARNING: Do NOT use vinegar (or anything else acidic) on granite counter-tops!
I forgot to mention in my post that one of the best things about using vinegar is how inexpensive it is! This makes it very affordable, especially when compared to store-bought cleaners. You can get a HUGE jug for just a couple of bucks!
De-Clogging Drains with Vinegar
I forgot to mention this tip in my original post, so I thought I'd add it. Another thing I love vinegar for is de-clogging stopped up drains. Just pour some baking soda down the drain (1/4-1/2 cup) followed by 3/4 – 1 cup of vinegar. QUICKLY cover the drain with an old cloth to keep the mixture down the drain. This is tough since it will turn into a mini-volcano, but just try your best. After it settles, let it sit for about 15 minutes. While you're waiting, put a kettle of water on the stove. Once it is almost boiling (boiling water is bad for pipes, so just get it REALLY hot), pour it down the drain…and you're done! Sometimes you might need to do this a couple of times to get it to work, but it has worked great for us!
February 10, 2010
This entry was posted in
Cleaning
,
Do-It-Yourself
,
Featured
,
Recipes
. Bookmark the
permalink
.